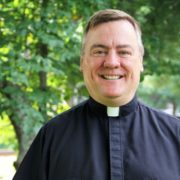 Reverend John J. Stoltz
Pastor
B.A. English Thomas More College, Crestview Hills, KY
M.Div. University of St. Mary of the Lake, Mundelein, IL
Fr. John grew up in Louisville, Kentucky, and his family lives here. In fact his parents are members of St. Aloysius.  He was ordained a priest for the Archdiocese of Louisville in 1990. Before coming to St. Aloysius, he was pastor of St. Gabriel Church, Louisville. He was also pastor of two churches in south-central Kentucky.
Reverend Luke Ko
Associate Pastor: Korean Community
Rev. Ko  joined the St. Aloysius community in May 2017.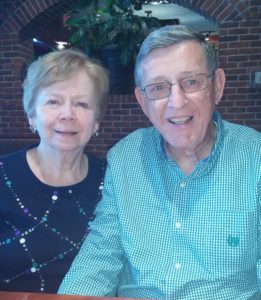 Deacon Charlie & Fran Brown
Deacon Charlie was ordained in 1996 to serve the Archdiocese of Louisville. He has served in five parishes since ordination. He was formerly employed by Metropolitan Sewer District as a civil engineer.  He is a senior deacon presently serving in ministries that focus on pastoral care and advocacy for social justice. Married since 1967, Deacon Charlie and Fran have been blessed with two children and three grandchildren. Fran is a retired special education teacher. She enjoys sharing ministry with Deacon Charlie. Currently she serves on the Advisory Council for Opportunities for Life for the Archdiocese of Louisville and the Advisory Council for St. Elizabeth Catholic Charities in New Albany, Indiana. Her service includes a ministry of presence for residents of Saint Elizabeth's Maternity and Transition Home. The motto for Deacon Charlie and Fran is "pray, play and serve."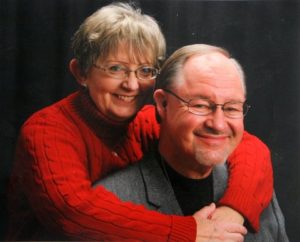 Deacon Dan & Kathy Parker
I was born in Tupelo, Mississippi and my family moved to Kenosha, Wisconsin when I was very young.
I met the love of my life while in high school. Kathy and I met on a blind date Memorial weekend in 1963 and were married four years later on November 25, 1967. This past November we celebrated 46 years of marriage. We have one daughter Jennifer and she is married to Bill Dolan and they have two children William Patrick and Stephanie Grace and both attend school at St. Aloysius
I completed my formal education in Wisconsin with several additional curriculum programs thrown in as Kathy and I moved to several other states in my climb up the corporate ladder.
I was ordained a Permanent Deacon on August 26, 2006 and assigned to St. Aloysius. My employment had me assigned to Michigan and while I worked there (commuted to Louisville every other weekend) I was granted dual faculties and served two parishes St. Aloysius and St. William in Walled Lake Michigan. In 2008 I was assigned to the newly formed Parish of St. Bernadette where I served for five years. I was recently reassigned back to St. Aloysius and I am so very happy and proud to be back home.
I am currently employed by Kentucky One Health Systems (a division of Catholic Health Initiatives) as a Staff Chaplain involved with three local hospitals: Jewish, St. Mary and Elizabeth and University of Louisville.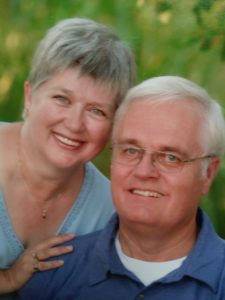 Deacon Phil & Alice Noltemeyer
Deacon Phil has been married to Alice Marie for 46 years.  Together they have 4 adult children and 7 grandchildren.  Deacon Phil retired from the U.S. Air Force in 1994 and again in 2009 from the Engineering department of the Louisville International Airport.
Deacon Phil was ordained a Permanent Deacon on August 26, 2006, alongside Deacon Dan & Deacon Tom.  He has had several assignments since his ordination: Our Lady of Mercy in Hodgenville, the clustered community of St. Ann's in Howardstown, and most recently at St. Aloysius in Shepherdsville, St. Benedict in Lebanon Junction and St. Clare Oratory in Colesburg.
Deacon Phil joined the parish in June 0f 2017.  He is looking forward to many years of service to the families of Saint Aloysius.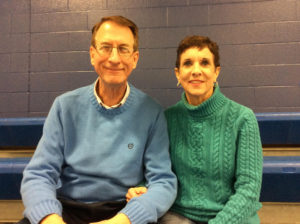 Deacon Tom & Becky Roth
We have belonged to St. Aloysius for over 20 years. We became part of the parish
In 1991. My wife Becky and I have been married for 40 years. We are both native Louisvillians. We have 3 children that are married and 7 grandchildren. We all live in the area and are intimately
involved in each others lives. I attended Spencerian Business College, University of Louisville and Spalding University. In 2006 I was ordained in the archdiocese to the diaconate and assigned to serve at St. Aloysius. It is a wonderful benediction serving and growing with the parishioners of St. Aloysius in our love, our faith, our knowledge, our understanding, and our relationship with Our God.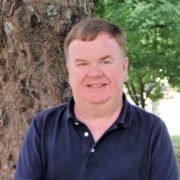 Dennis Blum
Business Manager
BA in Accounting
Dennis joined St. Aloysius in December 2015. He has two sons, Matthew and Michael, and one adorable grandson, with his wife Ruth.  When we were asked why he decided to work for St. Aloysius his answer was rooted in his faith: "I am a catholic & serving the catholic community has always been important to me."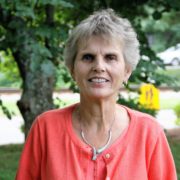 Jackie Gower
Receptionist
parishoffice@staloysiuspwv.org
Jackie has been a parishioner of St. Al's for 30 years. She began working in the Parish Office 3 years ago. She graduated from Waggener High School here in Louisville and has been married for 50 years this April! She has two grown children; a son with two daughters and a daughter with two sons. She's an animal lover at heart with 5 furry canines at home and enjoys yard work, needlework, sewing and watching PBS.
Maryann Hayslip
Principal
BA in Child Development, BA in Spanish, MA in Spanish Literature, MA in Educational Leadership
Maryann has worked in the School since 2003. She has 3 sons, who are all proud alumni of St. Aloysius.  Maryann enjoys being creative and uses her spare time to paper craft and cook.
"When I am creative, I am happy. When I'm happy, my joy spreads to those around me. This creative joy is truly a gift from our heavenly Father, the ultimate creator. It is a gift I am called to share with our school and parish community."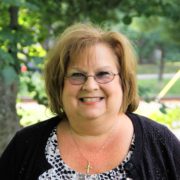 Mary Hynes
Pastoral Associate
MA Education, University of Louisville, MA Pastoral Ministry, Spalding University, Master Catechist Certification Archdiocese of Louisville
Mary has served the Archdiocese of Louisville since 1990 as an Elementary Ed. teacher, Director of Life Long Formation and Education, Director of Children's Ministry, and Pastoral Associate.
She has been married over 40 years to the same wonderful man. Rick and Mary have two children and five grandchildren. Mary was born and raised in Michigan, She still hasn't lost the northern accent; just talk with her and you will quickly understand.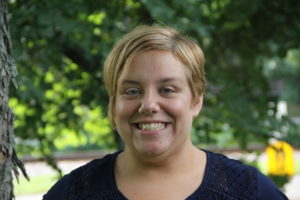 Mandy Kumler
Coordinator of Youth Ministry, Communcations Coordinator
University of Louisville, BA in Sociology and Minor in Religious Studies, Certificate in Youth Ministry (Arch. Louisville), Master Catechist (Arch. Louisville), National Certificate in Youth Ministry (Center for Ministry Development)

"I am called to ministry because others ministered to me. My life was changed for the better by the people who ministered to me in High School, so much, that I wanted to be able to offer the same life changing experience to others. I want to make a difference in people's lives and help folks to love God and the Church."
Mandy has been the Coordinator of Youth Ministry here at St Aloysius since October of 2002!  She lives in Louisville with her husband Kris and her two young children, Vince and Dot.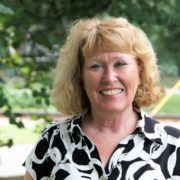 Cindy Sullivan
Office Coordinator
University of Kentucky, Bachelors in Business Administration
University of Louisville, Master's in Human Resources
Cindy has been employed with St. Aloysius since 2004. She has a background working in Human Resources with Ethicon, Inc. in Cincinnati, Ohio and The City of Louisville before working at St. Al's. She and her husband Mike have 3 sons: Michael, Shaun and Kevin. Outside of work she enjoys cheering on her sons at their lacrosse and basketball games as well as walking and reading.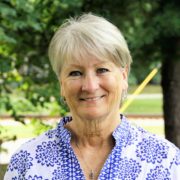 Carolyn Sweeney
Office Assistant
Carolyn has worked at St. Aloysius since Fall, 2008 and has been married for 49 years. She graduated from Assumption High School here in Louisville. She 'bleeds blue' as an avid fan of University of Kentucky sports. She has two children who have given her 5 Grand-babies (4 boys & 1 girl) whom she loves to spend time with.  She has recently became a great grandmother and loves her role of great grandma!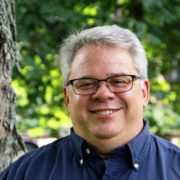 Chris Tolbert
Music Director
BA, Music; MA, Pastoral Ministry
Chris has been at St. Aloysius since Oct. 2015. He and his wife Mary Alice have two daughters, Gillian and Eleanor.
When asked why he is called to ministry his response was simple, "I believe I have some talents and I'm called to share them (Mt. 25:14-30)."